DoubleX Gabfest: The Pajama Party Edition
Listen to Slate's show about bros in the tech industry, rape in the military, and pajamas on the runway.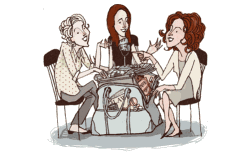 Listen to the DoubleX Gabfest by clicking the arrow on the audio player below:
In this week's Gabfest, DoubleX editor Hanna Rosin joins Slate senior editor Dan Kois and New Republic staff writer Noreen Malone to discuss bros in the tech industry, rape in the military, and pajamas on the runway
Other items discussed in the show:
ValleyWag's initial discovery of Pax Dickinson's Twitter feed.
Ann Friedman's dissection of the "bro" in NYMag.
The app that premiered at Tech Crunch's hackathon, Titstare.
Noreen's piece in the New Republic on tech as the new Wall Street.
Google's unique hiring strategy.
The New Yorker's profile of Brian Goldberg.
Goldberg's blog post announcing his new website for women, Bustle.com.
Sen. Claire McCaskill's op-ed on sexual assault in the military in USA Today.
Alex Seitz-Wald discusses military rape in Salon.
The fallout when in 2012 a commissioner in Louisiana banned pajama wearing in public.
Marc Jacobs looking effortlessly chic in pajamas at New York Fashion Week 2013.
Julian Schnabel at his pajama-wearing best.
Noreen loves A Time to be Born, a novel about cynical New Yorkers written decades before Woody Allen filled that role.
Hanna says you should read the New Yorker piece on the "Truman Show phenomenon," or how paranoid delusions of schizophrenia sufferers has shifted to reflect our reality show-obsessed world.
Dan read Jenny Diski's piece in the London Review of Books in defense of a pop star whose name he can't remember (it was Liz Jones).
Loyal fans of Slate's DoubleX, please remember to like us on our Facebook page.