DoubleX Gabfest: The Female Gay Mike Bloomberg Edition
Listen to Slate's show about Orange Is the New Black, Christine Quinn, and the case of the Craigslist killer.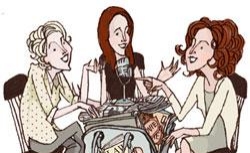 Listen to the DoubleX Gabfest by clicking the arrow on the audio player below:
Advertisement

In this week's Gabfest, DoubleX editor Allison Benedikt joins Slate editor June Thomas and New Republic staff writer Noreen Malone to discuss Orange Is the New Black, Christine Quinn's run for New York mayor, and Hanna Rosin's new Atlantic piece about the Craigslist killer.
Items discussed in the show:
Also, live show reminder! The DoubleX Gabfest will be at George Mason University's Center for the Study of Gender and Conflict in Arlington, Va., on Sept. 18. Buy tickets here!
TODAY IN SLATE
Politics
The Irritating Confidante
John Dickerson on Ben Bradlee's fascinating relationship with John F. Kennedy.