DoubleX Gabfest: The Mrs. Carter Edition
Listen to Slate's show about pop culture and (maybe) feminist icon Beyoncé; The New Yorker's recent story about mass shooter Amy Bishop; and a new paper on the myths of weight loss.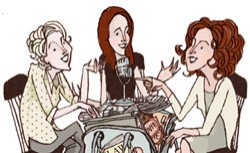 Listen to the DoubleX Gabfest by clicking the arrow on the audio player below:
In this week's Gabfest, DoubleX managing editor Allison Benedikt joins New Republic staff writer Noreen Malone and Slate senior editor Dan Kois to discuss pop culture and (possible) feminist icon Beyoncé; a recent New Yorker story about mass shooter Amy Bishop; and weight-loss myths.
Other items discussed in the show:
Noreen Malone recommends a collection of journalist Mark Jacobson's work, American Gangster.
Dan Kois wants you to give a listen to soul singer Laura Lee's 1971 classic, "Women's Love Rights."
Allison says to check out Dave Grohl's new documentary, Sound City, about an iconic Los Angeles music studio, and how the transition from analog to digital recording put it out of business.
Loyal fans of Slate's DoubleX, please remember to like us on our Facebook page.