DoubleX Gabfest: The Hipster Sexism Edition
Listen to Slate's wrapup of the election, examination of the term "hipster sexism," and the recent nanny murder case.
Posted Thursday, Nov. 1, 2012, at 10:37 AM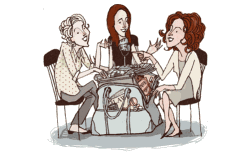 Listen to the DoubleX Gabfest with this audio player, or by using one of the other options below:
In this week's Gabfest, DoubleX editor Hanna Rosin joins New Republic staff writer Noreen Malone and Slate assistant editor Katy Waldman to discuss the election and whether the "war on women" really exists; the trending term "hipster sexism"; and how the media handled the nanny murder case.
Other items discussed in the show:
Hanna Rosin recommends Lois Lowry's Son.
Katy Waldman thinks you should get in the Halloween spirit with All Hallow's Read from Neil Gaiman. Also check out the scary book recommendations from Slate staffers.
MYSLATE
Noreen Malone is a staff writer for the New Republic.

Hanna Rosin is the author of The End of Men, a co-founder of Slate's DoubleX and a senior editor at the Atlantic. She can be reached at hanna.rosin@gmail.com. Follow her on Twitter or Facebook or visit her website.

Katy Waldman is a Slate assistant editor.