DoubleX Gabfest: The Nobody's Business Edition
Listen to Slate's show about Martha Stewart's new image, the Rihanna/Chris Brown saga, and the Fox News article "The War on Men."
Listen to the DoubleX Gabfest with this audio player, or by using one of the other options below:
In this week's Gabfest, DoubleX editor Hanna Rosin joins New Republic staff writer Noreen Malone and DoubleX managing editor Allison Benedikt to discuss Martha Stewart's new young, hip following; Rihanna's song "Nobody's Business" and her relationship with Chris Brown; and Fox News' funny ideas about the "war on men" with Reason contributing editor Greg Beato.
Other items discussed in the show: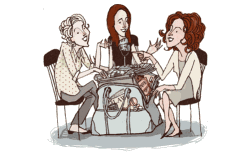 Hanna Rosin suggests Margaret Talbot's terrific 1996 profile of Martha Stewart.
Noreen Malone wants you to check out Solange Knowles's new EP, "True," especially the opening track, "Losing You."
Loyal fans of Slate's DoubleX, please remember to like us on our Facebook page.