DoubleX Gabfest: The Muumuu Edition
Listen to Slate's show about Marissa Mayer's short maternity leave, how to talk to your kids about porn, and Jessica Grose's new novel, Sad Desk Salad.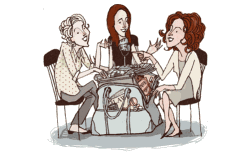 Listen to the DoubleX Gabfest with this audio player, or by using one of the other options below:
In this week's Gabfest, DoubleX editor Hanna Rosin joins New Republic staff writer Noreen Malone, regular Slate contributor Jessica Grose, and DoubleX managing editor Allison Benedikt to discuss if it matters that Marissa Mayer, the new CEO of Yahoo!, opted for a short maternity leave; if a dad's letter to his porn-surfing son that went viral on Reddit exhibited good or bad parenting skills; and Jessica Grose's new book, Sad Desk Salad.
Other items discussed in the show:
Slate's Allison Benedikt's post, "Yahoo CEO Marissa Mayer Is Making a Huge Mistake by Cutting Her Maternity Leave Short"
Sheryl Sandberg's TED talk on "Why we have too few women leaders" and her article "Don't Leave Before You Leave".
A father's letter to his porn-surfing son on Reddit.
Salon's Tracy Clark-Flory's reaction, "Finding your kids' porn".
Katie Roiphe's Slate piece, "You Found Your 13-Year-Old's Porn Stash".
Karen Owen's PowerPoint ranking her sexual partners at Duke, which went viral and was an inspiration for Sad Desk Salad.
Read an excerpt from Sad Desk Salad.
DoubleX endorsements:
Noreen Malone suggests you listen to Dum Dum Girls' album, End of Daze, immediately.
Hanna Rosin recommends Junot Diaz's new book, This is How You Lose Her.
Allison Benedikt wants you to check out the film, Your Sister's Sister.
Jess Grose, a soon-to-be mother, swears by Gap's maternity leggings for maximum comfort when you're expecting.
New York Gabfest listeners: Come to Katie Roiphe's event at the New York Public Library on Wed., Oct. 10, and enter the code SLATENYPL to get a $10 discount on your ticket.