DoubleX Gabfest: The Mom-in-Chief Edition
Listen to Slate's show about Michelle Obama's Democratic Convention speech; Hanna Rosin's upcoming book, The End of Men; and the new film Bachelorette.
Posted Thursday, Sept. 6, 2012, at 8:49 AM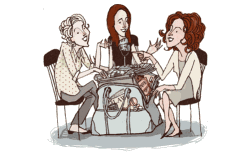 Listen to the DoubleX Gabfest with this audio player or by using one of the other options below:
In this week's Gabfest, DoubleX editor Hanna Rosin joins New Republic staff writer Noreen Malone and DoubleX managing editor Allison Benedikt to discuss Michelle Obama's speech at the Democratic National Convention—specifically, her use of the term, "mom-in-chief"; Hanna's new book, The End of Men: And the Rise of Women; and the new movie Bachelorette's unabashed portrayal of unlikable female characters.
Other items discussed in the show:
Hanna Rosin recommends Caitlin Moran's delightful and funny memoir How To Be a Woman.
Noreen Malone suggests some tunes: Cat Power's Sun and Pistol Annies' Hell on Heels.
Allison Benedikt wants you to see the Iranian film A Separation, the Academy Award winner for best foreign language film in 2012.
Gabfest listeners: Come see Hanna on her book tour, and say hi! Dates and more info here.
MYSLATE
Allison Benedikt is the managing editor of Slate's Double X.

Noreen Malone is a staff writer for the New Republic.

Hanna Rosin is the author of The End of Men, a co-founder of Slate's DoubleX and a senior editor at the Atlantic. She can be reached at hanna.rosin@gmail.com. Follow her on Twitter or Facebook or visit her website.