DoubleX Gabfest: The Alone in the Tub Edition
Listen to Slate's show about HBO's Girls, doltish dads in commercials, and Katie Roiphe's Newsweek cover story on submissive sex and working women.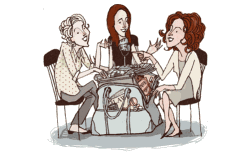 Listen to the DoubleX Gabfest by clicking the arrow on the audio player below or by opening this player in another tab:
Advertisement

The DoubleX "coffee talk" endorsements:
Other items discussed in the show:
TODAY IN SLATE
Politics
Blacks Don't Have a Corporal Punishment Problem
Americans do. But when blacks exhibit the same behaviors as others, it becomes part of a greater black pathology.