DoubleX Gabfest: The Robo-Panda Edition
Listen to Slate's show about marriage and generosity, childless women on TV, and the strangest gifts we've ever received.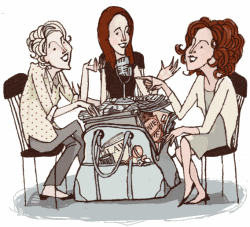 Advertisement

In this week's Gabfest, Slate senior editors Hanna Rosin and Jessica Grose, along with Slate contributor June Thomas, discuss "When Baby Makes Three," a new paper from the National Marriage Project; the depiction of childless women on both sitcoms and dramas and the strangest gifts we've ever received, including a Robotic panda and a Slate ... personal massager.
The DoubleX "coffee talk" endorsements:
Hanna Rosin says that Bink & Gollie is the rare children's book that appeals to all the kids in her family—ages 3 to 11.
Links to other things we mentioned:
TODAY IN SLATE
Technocracy
Forget Oculus Rift
This $25 cardboard box turns your phone into an incredibly fun virtual reality experience.