DoubleX Gabfest: The #Hashtag Edition
Listen to Slate's show about #yesallwomen, paid menstrual leave, and Nasty Gal's Sophia Amoruso.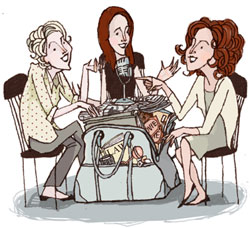 Listen to the DoubleX Gabfest by clicking the arrow on the audio player below:
In this week's Gabfest, Slate senior editor Jessica Winter joins Outward editor June Thomas and New York editor Noreen Malone to discuss #yesallwomen, the hashtag response to this weekend's Santa Barbara shootings; paid menstrual leave; and Sophia Amoruso and her new book #Girlboss.
Some of the stories discussed in the episode:
Jessica says you should read the poem "The Houselights," by Robyn Schiff, and also recommends Schiff's Revolver, a poetry collection so good it transcends seasickness.*
June recommends Faking It, an MTV show about two teenagers who pretend to be a lesbian couple to boost their popularity. Despite the questionable premise, June says the show has some surprisingly poignant moments.
Correction, May 29, 2014: This post originally misstated the title of the Robyn Schiff poem "The Houselights."