The Culture Gabfest "Not That Gomorrah" Edition
Slate's Culture Gabfest on Guardians of the Galaxy, plagiarism scandals, and brainstorming a new theme song.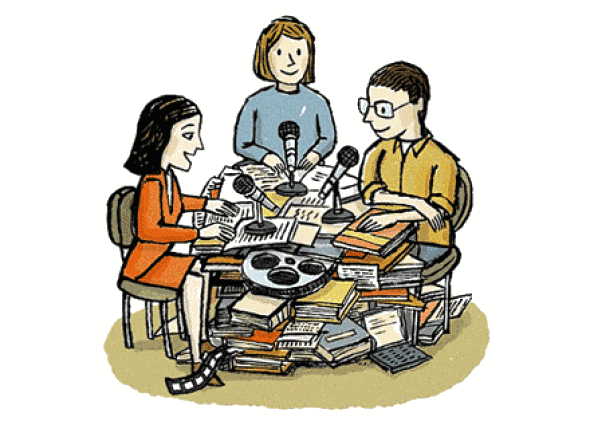 Listen to Culture Gabfest No. 307 with Julia Turner, Dana Stevens, and Stephen Metcalf with the audio player below.
The sponsor of this week's show is Audible. Get a free audiobook from Audible's collection of more than 150,000 titles and a subscription to a daily audio digest when you sign up for a 30-day free trial at www.audiblepodcast.com/culturefest. This week's pick for the Culture Gabfest Bucket List—the books you've got to read to be a smarter culture hound—is The Rest Is Noise by Alex Ross, read by Grover Gardner.
This week Slate Plus listeners will hear an extended version of the gabbers' discussion with guest composer Nick Britell. Together, they go deeper into the theory and practice of theme tunes, and make firmer plans for their own. Go to slate.com/cultureplus to learn more about Slate Plus and join today.
Culturefest is on the radio! "Gabfest Radio" combines Slate's Culture and Political Gabfests in one show—listen on Saturdays at 7 a.m. and Sundays at 6 p.m. on WNYC's AM820.
On this week's episode, Julia, Stephen, and Dana take aim at intergalactic caper Guardians of the Galaxy. Is Bradley Cooper à la raccoon enough to charm them, or does this movie have too many echoes of blockbusters past? Next, the worlds of political journalism, advice columns, and British tennis have all been lately hit by plagiarism scandals. No big deal, or unforgivable transgression? Finally, the Culture Gabfest is in need of some new introductory music, having inherited the current ditty from the Political Gabfest. Like any hand-me-down, it is beloved, but move on we must. Composer Nicholas Britell joins the critics in the studio to discuss the process of dreaming up a theme tune, our listeners' suggestions, and new directions for the Culturefest sound.
Links to some of the things we discussed this week follow:
Julia: Joss Whedon's spirited space western, Firefly.
Stephen: That other intergalactic ensemble romp, Galaxy Quest.
This podcast was produced by Ann Heppermann. Our intern is Josephine Livingstone.