The Culture Gabfest "Live from Montreal" Edition
Slate's Culture Gabfest on Orphan Black, Hateship Loveship, and Carl Wilson's Let's Talk About Love.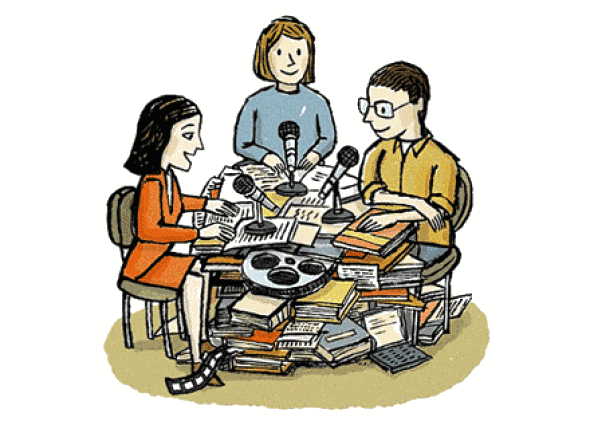 Listen to Culture Gabfest No. 294 with Stephen Metcalf, Dana Stevens, and Julia Turner with the audio player below.
Culturefest is on the radio! "Gabfest Radio" combines Slate's Culture and Political Gabfests in one show—listen on Saturdays at 7 a.m. and Sundays at 6 p.m. on WNYC's AM820.
On this week's episode, live from the Blue Metropolis Literary Festival in Montreal, the critics discuss the Canadian sci-fi series Orphan Black, which stars Tatiana Maslany as several identical women who are revealed to be clones. Maslany slips deftly into each role, but does the show's writing stand up to her virtuosic performance? Next, the gabbers turn to Hateship Loveship, a film adaptation of Alice Munro's short story "Hateship, Friendship, Courtship, Loveship, Marriage," starring Kristen Wiig in a surprising dramatic turn. And finally, the Gabfest welcomes Slate music critic (and native Canadian) Carl Wilson to discuss the revised edition of his book Let's Talk About Love, which reconsiders the role of "good taste" in pop music criticism. What's a critic to do when kitsch is cool and cool is kitschy?
Links to some of the things we discussed this week follow:
Julia: Norman McLaren, the grandfather of Canadian animation, whose mesmerizing short film "Horizontal Lines" is available on YouTube.
Carl: Owen Pallett, formerly known as Final Fantasy, whose new album "In Conflict" is his most emotionally frank.
Outro: "Montreal" by the Wingdale Community Singers
You can email us at culturefest@slate.com.
This podcast was produced by Andy Bowers and Ann Heppermann. Our intern is Anna Shechtman.