The Culture Gabfest "Do Androids Dream of Joaquin Phoenix?" Edition
Slate's Culture Gabfest on Her, Isaac Asimov's predictions for 2014, and the pretense of anonymity in restaurant criticism.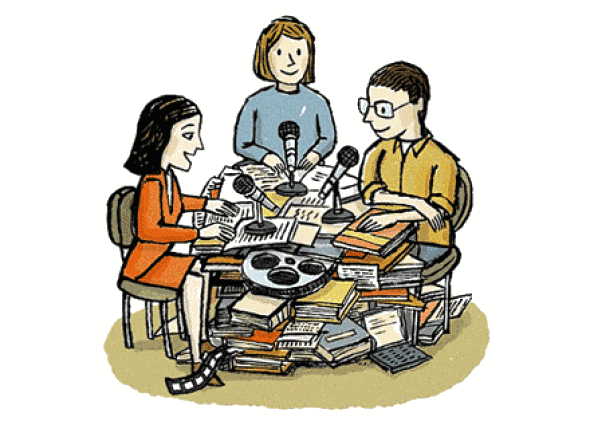 Listen to Culture Gabfest No. 277 with Stephen Metcalf, Dana Stevens, and Julia Turner with the audio player below.
The sponsor of today's show is Stamps.com. Go to Stamps.com and use the promo code "CULTUREFEST" for your no-risk free trial and bonus offer.

Vote for the Culture Gabfest (and the Political Gabfest) in the Stitcher Awards. You can vote once a day until Jan. 13, 2014.
Culturefest is on the radio! "Gabfest Radio" combines Slate's Culture and Political Gabfests in one show—listen on Saturdays at 7 a.m. and Sundays at 6 p.m. on WNYC's AM820.
On this week's episode, the critics discuss Her, Spike Jonze's futuristic film about a man's love affair with his sentient operating system. Starring Joaquin Phoenix and the voice of Scarlett Johansson, the film has received near-universal praise from critics, but does it merit the hype? Next the gabbers turn to a 1964 essay by science-fiction demigod Isaac Asimov, outlining his predictions for 2014. Then the critics take stabs at envisioning the cultural landscape 50 years from now. Finally New York magazine restaurant reviewer Adam Platt joins the Gabfest to discuss the pretense of anonymity among food critics.
Links to some of the things we discussed this week follow:
Julia: Looking out airplane windows and using the Wi-Fi–enhanced flying experience to identify features like the Crescent Dunes Solar Energy Project, with its tower of molten salt.
This podcast was produced by Ann Heppermann. Our intern is Anna Shechtman.