The Culture Gabfest "Ambivalent Elegy" Edition
Slate's Culture Gabfest on Scandal, Luke Barr's new book Provence 1970, and the end of Blockbuster.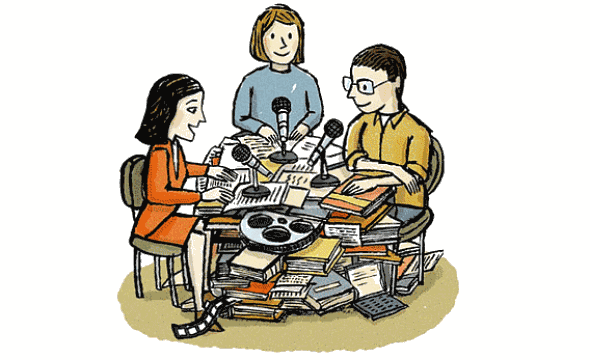 Listen to Culture Gabfest No. 269 with Stephen Metcalf, Dana Stevens, and Julia Turner with the audio player below.
Culturefest is on the radio! "Gabfest Radio" combines Slate's Culture and Political Gabfests in one show—listen on Saturdays at 7 a.m. and Sundays at 6 p.m. on WNYC's AM820.
On this week's episode, the critics discuss Scandal, the ABC political drama starring Kerry Washington as a fast-talking beltway "fixer." With critic June Thomas, they consider the show's color-blind casting and unprecedented use of social media to live-tweet its broadcasts, which have led some to consider it the future of network TV. Next, the critics welcome Luke Barr to discuss his new culinary history Provence 1970. The book recounts the fateful meeting of six titans of American cuisine in Southern France, a coincidental encounter that inspired an American food revolution. And finally, the gabbers share an ambivalent nostalgia for Blockbuster, which closed its remaining stores this week. Where did all the geeky store clerks go? And what will we do without them?
Links to some of the things we discussed this week follow:
Dana: The Prowl, a social media site that allows you to crowd-source your online shopping and find, among other things, "the perfect turtleneck."
Julia: Happy Donuts, a 24-hour donut shop in San Francisco's Noe Valley with unexpectedly "puffy and yeasty" artisanal offerings.
Steve: American Jazz pianist Marian McPartland and her NPR program Marian McPartland's Piano Jazz, which remains the longest-running cultural program in NPR's history.
You can email us at culturefest@slate.com.
This podcast was produced by Chris Wade. Our intern is Anna Shechtman.