The Culture Gabfest "Working-Class Slag From a Crap Town" Edition
Slate's podcast about the new film Drinking Buddies, increasing human life expectancy, and Simon Doonan's latest book The Asylum.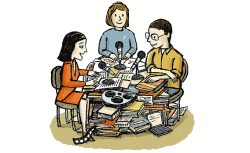 Listen to Culture Gabfest No. 259 with Stephen Metcalf, Dana Stevens, and John Swansburg with the audio player below.
Culturefest is on the radio! "Gabfest Radio" combines Slate's Culture and Political Gabfests in one show—listen on Saturdays at 7 a.m. and Sundays at 6 p.m. on WNYC's AM820.
Join Slate's DoubleX podcast for their live taping at George Mason University on Sept. 18 at 7 p.m. Tickets are available here.
On this week's episode, our critics discuss Drinking Buddies, the latest film by Joe Swanberg, starring Olivia Wilde, Jake Johnson, Anna Kendrick, and Ron Livingston. Set in a Chicago brewery, the film follows Kate (Olivia Wilde) and Luke (Jake Johnson) as they negotiate their platonic friendship, their entrance into bourgeois adulthood, and their respective romantic relationships. Think When Harry Met Sally meets A Midsummer Night's Dream, saturated in an excess of beer. Next, the Gabfest turns to a new Slate series by science and health editor Laura Helmuth on the swiftly increasing human lifespan and its effects on our conception of self. Laura joins the critics to explain, among other things, why we are #NotDeadYet. Finally, creative ambassador for Barneys and Slate contributor Simon Doonan talks about his latest book The Asylum, explaining his ascent from "working class slag" to fashion industry mainstay.
Here are links to some of the things we discussed this week:
Dana: A Story of Film, Turner Classic Movies's 15-part documentary and accompanying film series on the history of cinema.
This podcast was produced by Dan Pashman. Our intern is Anna Shechtman.