The Culture Gabfest "Can Someone Show Me How to Laugh Deeply?" Edition
A special call-in edition of Slate's Culture Gabfest, in which topics range from globalization to chicken husbandry.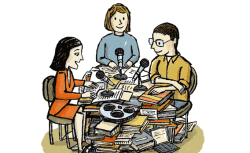 Listen to Culture Gabfest No. 261 with Stephen Metcalf, Dana Stevens, and Julia Turner with the audio player below.
Culturefest is on the radio! "Gabfest Radio" combines Slate's Culture and Political Gabfests in one show—listen on Saturdays at 7 a.m. and Sundays at 6 p.m. on WNYC's AM820.
On this call-in edition of the Culture Gabfest, the critics answer listeners' questions spanning a wide range of topics, including their preferred means of media consumption, the book that best encapsulates New York City, and the effects of globalization on cultural diversity. The gabbers also discuss their favorite paintings, the Canadians with the most influence on American culture, literary milestones from their childhoods, and, of course, chicken husbandry.
Links to some of the things discussed this week follow:
This podcast was produced by Dan Pashman. Our intern is Anna Shechtman.