The Culture Gabfest "Live From Brooklyn" Edition
A Brooklyn live show of Slate's Culture Gabfest, in which the critics discuss Enough Said, "Brooklyn" the brand, and Grand Theft Auto V.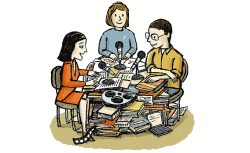 Listen to Culture Gabfest No. 262 with Stephen Metcalf, Dana Stevens, and Julia Turner with the audio player below.
The sponsors of this week's show are 23andme.com and Audible. Go to 23andme.com/Slate for your $99 personal genetic profile. Get a free audiobook from Audible's collection of more than 100,000 titles and a subscription to a daily audio digest when you sign up for a 30-day free trial at www.audiblepodcast.com/culturefest.
Culturefest is on the radio! "Gabfest Radio" combines Slate's Culture and Political Gabfests in one show—listen on Saturdays at 7 a.m. and Sundays at 6 p.m. on WNYC's AM820.
This week's episode was taped before a live audience at the Bell House in Brooklyn. Our critics started by discussing Nicole Holofcener's latest romantic comedy Enough Said. Starring Julia Louis-Dreyfus, James Gandolfini, and Catherine Keener as three divorcés with interlocking love lives, the film grapples with middle-age dating. Next, the gabbers turn to the setting of the live show: Brooklyn. Oft-associated with artisanal goods, local food, and proud Luddism, Brooklyn is spreading beyond its borough into a brand with international resonance. And finally, with the assistance of New York Times video game critic Chris Suellentrop, the critics discuss Grand Theft Auto V, the newest installment in the massively popular series. New to gaming, they test out GTA V, explore its merits, and debate its claim to high art.
Check out Chris Wade's video of Dana, Stephen, and Julia trying out GTA V:
Links to some of the things discussed this week follow:
This podcast was produced by Dan Pashman. Our intern is Anna Shechtman.
Correction, Sept. 27, 2013: This article originally misspelled Tom Bissell's last name.