The Culture Gabfest "Take It to the Bridge" Edition
Slate's podcast about The Spectacular Now, the FX crime drama The Bridge, and the power of melody.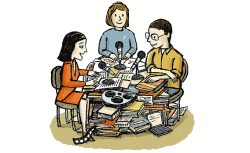 Listen to Culture Gabfest No. 255 with Stephen Metcalf, Dana Stevens, and Julia Turner with the audio player below:
The sponsors of this week's show are Stamps.com and MailChimp.com. Go to Stamps.com and use the promo code "CULTUREFEST" for your no-risk free trial and bonus offer. Use MailChimp to design and send email marketing campaigns today.
Culturefest is on the radio! "Gabfest Radio" combines Slate's Culture and Political Gabfests in one show—listen on Saturdays at 7 a.m. and Sundays at 6 p.m. on WNYC's AM820.
On this week's episode, our critics discuss James Ponsoldt's new high school romance The Spectacular Now. Does the movie manage to capture the adolescent ennui that older films like Say Anything and The Breakfast Club nailed, or is it just another one of those coming-of-age dramas? Next, the gab crew reviews the new FX series The Bridge, a crime show that's set in an especially charged location—the border between Juárez, Mexico and the Texas city of El Paso. Lastly, the gabfest was inspired by a recent essay on the power of melody written by Jan Swafford in Slate. Our critics discuss Swafford's piece, share how melodies move them, and cite some of their favorites in the process.
Here are links to some of the things we discussed this week:
Outro: "Don't You Forget About Me," by Simple Minds.
You can email us at culturefest@slate.com.

This podcast was produced by Dan Pashman. Our intern is Sam McDougle.