The Culture Gabfest "Hurry Up With My Damn Croissants" Edition
Slate's podcast about Kanye West's new album Yeezus, Zack Snyder's Superman reboot Man of Steel, and ambivalence.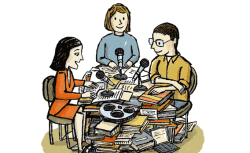 Listen to Culture Gabfest No. 248 with Stephen Metcalf, Dana Stevens, and June Thomas with the audio player below.

The sponsors of today's show are Stamps.com and Audible.com. Go to Stamps.com and use the promo code "CULTUREFEST" for your no-risk free trial and bonus offer. Get a free audiobook from Audible's collection of more than 100,000 titles and a subscription to a daily audio digest when you sign up for a 30-day free trial at www.audiblepodcast.com/culturefest.
Culturefest is on the radio! "Gabfest Radio" combines Slate's Culture and Political Gabfests in one show—listen on Saturdays at 7 a.m. and Sundays at 6 p.m. on WNYC's AM820.
On this week's episode, our critics look at hip-hop icon Kanye West's much-anticipated, musically and lyrically abrasive new album, Yeezus, with Slate's Forrest Wickman. The Gabfest crew is then joined by a Superman expert, Pop Culture Happy Hour panelist Glen Weldon, to look at Man of Steel, director Zack Snyder's dark reimagining of the Superman myth. Finally, the gabbers talk about ambivalence: Is it possible that intellectual paralysis is fruitful after all?
Here are links to some of the things we discussed this week:
Dana: The Twitter feed "@WarnerArchive," which features old photos from classic Warner Bros. movies and stars.
Stephen: Elliott Smith's cover of Big Star's "Nighttime," and the greatest artist who ever lived, Shakespeare.
Outro: "Nighttime," by Elliott Smith
You can email us at culturefest@slate.com.

This podcast was produced by Mike Vuolo and Chris Wade. Our intern is Sam McDougle.