The Culture Gabfest Selfie Duckface Edition
Slate's podcast about HBO's hit TV series Game of Thrones, Joss Whedon's new film Much Ado About Nothing, and the "selfie."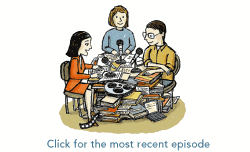 Listen to Culture Gabfest No. 247 with Stephen Metcalf, June Thomas, and Nina Shen Rastogi with the audio player below.

Culturefest is on the radio! "Gabfest Radio" combines Slate's Culture and Political Gabfests in one show—listen on Saturdays at 7 a.m. and Sundays at 6 p.m. on WNYC's AM820.
On this week's episode, our critics look at HBO's hit epic fantasy TV series Game of Thrones as it reaches near Sopranos-level popularity. Then, the Gabfest crew discusses director Joss Whedon's new loose, naturalistic, Santa Monica-based film adaptation of Shakespeare's Much Ado About Nothing. Finally, the gabbers take on the now-ubiquitous trend of smartphone self-portraiture, the "selfie"—innocuous social-media phenomenon, or 21st-century narcissism gone wild?
Here are links to some of the things we discussed this week:
Nina: The album Devotion, by British singer-songwriter Jessie Ware, and the young adult book Eleanor and Park, by Rainbow Rowell.
June: The BBC's new atmospheric five-part drama The Fall, starring Gillian Anderson, which is now available on Netflix.
Stephen: The song "Sex Tourists," by the band French Kicks. And, of course, the perfect garden fertilizer: alpaca poop.
Outro: "Sex Tourists," by French Kicks.
You can email us at culturefest@slate.com.

This podcast was produced by Chris Wade. Our intern is Sam McDougle.