The Culture Gabfest: But Mostly Pain Edition
Slate's podcast about Michael Bay's movie Pain and Gain, Top of the Morning and the battle for morning TV dominance, and Amazon's TV pilots.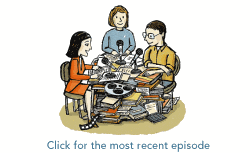 Listen to Culture Gabfest No. 241 with Stephen Metcalf, Brian Stelter, Dana Stevens, and June Thomas with the audio player below.

The sponsors of today's show are Stamps.com and Audible.com. Go to Stamps.com and use the promo code "CULTUREFEST" for your no-risk free trial and bonus offer. Get a free audiobook from Audible's collection of more than 100,000 titles and a subscription to a daily audio digest when you sign up for a 30-day free trial at www.audiblepodcast.com/culturefest.
Culturefest is on the radio! "Gabfest Radio" combines Slate's Culture and Political Gabfests in one show—listen on Saturdays at 7 a.m. and Sundays at 6 p.m. on WNYC's AM820.
On this week's episode, our critics discuss Michael Bay's new movie Pain and Gain, which has some humor, little humanity, and no warmth. The 'Festers are then joined by New York Times media reporter Brian Stelter to discuss his new book about the battle for morning TV dominance. Finally, our co-hosts ponder Amazon's new TV pilots and whether its crowdsourcing model could herald a change in TV content.
Here are links to some of the things we discussed this week:
This week's Audible suggestion: Just Kids written and narrated by Patti Smith
Dana: The Royal Shakespeare Company's production of Matilda, currently playing on Broadway.
Stephen: New York's sports talk radio station WFAN, which handled the coming out of NBA player Jason Collins exquisitely.
Outro: "Top of the Morning," by Bing Crosby
You can email us at culturefest@slate.com.

This podcast was produced by Julia Furlan. Our intern is Sally Tamarkin.