The Culture Gabfest: This Is a Movie About Hope Edition
Slate's podcast about Iron Man 3, Steven Soderbergh's State of Cinema address, and Comedy Central's new show Inside Amy Schumer.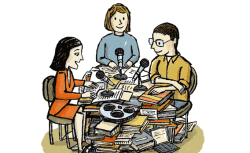 Listen to Culture Gabfest No. 242 with Stephen Metcalf, Dana Stevens, and June Thomas with the audio player below.
The sponsors of today's show are Stamps.com and Audible.com. Go to Stamps.com and use the promo code "CULTUREFEST" for your no-risk free trial and bonus offer. Get a free audiobook from Audible's collection of more than 100,000 titles and a subscription to a daily audio digest when you sign up for a 30-day free trial at www.audiblepodcast.com/culturefest.
Culturefest is on the radio! "Gabfest Radio" combines Slate's Culture and Political Gabfests in one show—listen on Saturdays at 7 a.m. and Sundays at 6 p.m. on WNYC's AM820.
On this week's episode, our critics discuss Iron Man 3: typical summer tent-pole action fare or serious meditation on PTSD and the war on terror? They then dissect Steven Soderbergh's State of Cinema address, today's movie-going psyche, and the complicated relationship between art and commerce. Finally, the Gabfesters enter the world of the versatile (and pretty blue) stand-up comic Amy Schumer by way of her new Comedy Central series, Inside Amy Schumer.
Here are links to some of the things we discussed this week:
Dana: BBC Radio 4's podcast Tweet of the Day. Each episode presents the song and story of a different bird.
Stephen: Shane Black's 2005 movie Kiss Kiss Bang Bang; delightful from beginning to end, it will make you like Val Kilmer.
Sally: The podcast Professor Blastoff. Co-hosted by comedians Tig Notaro, Kyle Dunnigan, and David Huntsberger, Professor Blastoff is an hourlong discussion, ostensibly about topics like science, religion, and philosophy, but really a weekly chance to listen to funny people who are best friends shoot the breeze and joke around.
Outro: "I Love It" by Icona Pop featuring Charli XCX