The Culture Gabfest: Pop Rocks in a Fanny Pack Edition
Slate's podcast about the life and legacy of Roger Ebert, National Geographic Channel's miniseries The '80s: The Decade That Made Us, and England's seven social classes.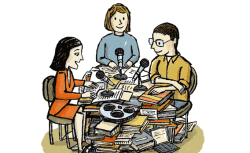 Listen to Culture Gabfest No. 238 with Stephen Metcalf, Dana Stevens, and June Thomas with the audio player below.
The sponsors of today's show are Stamps.com and Audible.com. Go to Stamps.com and use the promo code "CULTUREFEST" for your no-risk free trial and bonus offer. Get a free audiobook from Audible's collection of more than 100,000 titles and a subscription to a daily audio digest when you sign up for a 30-day free trial at www.audiblepodcast.com/culturefest.
Advertisement

Culturefest is on the radio! "Gabfest Radio" combines Slate's Culture and Political Gabfests in one show—listen on Saturdays at 7 a.m. and Sundays at 6 p.m. on WNYC's AM820.
On this week's episode, our critics discuss the life and legacy of film critic Roger Ebert and his place in the hearts of movie lovers everywhere. Then, after watching National Geographic Channel's miniseries The '80s: The Decade That Made Us, they reflect on the gnarliest decade of them all. Finally, the Culturefesters talk about the Great British Class Survey, which claims to reveal England's real class system.
Here are links to some of the things we discussed this week:
Outro: "I Wanna Be Rich" by Calloway
You can email us at culturefest@slate.com.

This podcast was produced by Julia Furlan. Our intern is Sally Tamarkin.

TODAY IN SLATE
Technocracy
Forget Oculus Rift
This $25 cardboard box turns your phone into an incredibly fun virtual reality experience.