The Culture Gabfest: A Rhythm of Liquids Edition
Slate's podcast about the daily rituals of artists and writers, the Sundance Channel's series Rectify, and the camp aesthetic.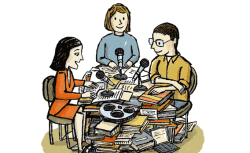 Listen to Culture Gabfest No. 240 with Mason Currey, Bryan Lowder, Stephen Metcalf, Dana Stevens, and June Thomas with the audio player below.
The sponsors of today's show are Stamps.com and Audible.com. Go to Stamps.com and use the promo code "CULTUREFEST" for your no-risk free trial and bonus offer. Get a free audiobook from Audible's collection of more than 100,000 titles and a subscription to a daily audio digest when you sign up for a 30-day free trial at www.audiblepodcast.com/culturefest.
The Culture Gabfest is on the radio! Gabfest Radio combines Slate's Culture and Political Gabfests in one show—listen on Saturdays at 7 a.m. and Sundays at 6 p.m. on WNYC's AM820.
On this week's episode, author Mason Currey sits in to talk about his new book on the daily routines of creative people and how the coffee vs. booze dialectic played out among the artists and writers he profiles. The Gabfesters then discuss Rectify, the new series from the Sundance Channel about a man released from prison after 19 years on death row. Does the show's flouting of narrative convention and its lack of the usual trinkety TV thrills make up for some of its heavy-handedness? Finally, Slate culture editorial assistant Bryan Lowder returns to the Culturefest to discuss his Slate series about the camp aesthetic. Our critics ponder the distinction between camp and campy and the oft-blurred line between camp and kitsch.
Here are links to some of the things we discussed this week:
Dana: Buster Keaton's 1920 short One Week, a masterpiece of American cinema and an allegory about love and marriage with jaw-dropping stunts.
Outro: "9 to 5" by Dolly Parton