The Culture Gabfest: I Guess We Should Ask You for Money Edition
Slate's show about Hollywood's trouble with leading men, Amanda Palmer's TED talk, and the PBS documentary Makers.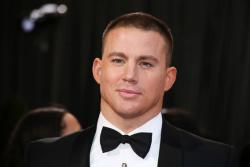 Listen to Culture Gabfest No. 233 with David Haglund, Mark Harris, Dana Stevens, and Forrest Wickman by clicking the arrow on the audio player below
The sponsors of today's show are Stamps.com and Audible.com. Go to Stamps.com and use the promo code "CULTUREFEST" for your no-risk free trial and bonus offer. Get a free audiobook from Audible's collection of more than 100,000 titles and a subscription to a daily audio digest when you sign up for a 30-day free trial at www.audiblepodcast.com/culturefest.
Culturefest is on the radio! "Gabfest Radio" Slate's Culture and Political Gabfests in one show—listen on Saturdays at 7 a.m. and Sundays at 6 p.m. on WNYC's AM820.combines
On this week's episode, Slate's David Haglund and Forrest Wickman step in to co-host with Dana Stevens. First, our critics are joined by writer Mark Harris to discuss his GQ article about the shifting path to stardom for Hollywood's leading men that demands a delicate balance of mainstream likability and edgy self-awareness. They then consider Amanda Palmer's TED talk about "the art of asking" and the evolving relationship between generative artists and the fans who fund their work. Finally, the Gabfesters discuss the PBS miniseries Makers: Women Who Make America, what it reveals about the strides of feminism over the past half-century, and the topics and themes the documentary seems to avoid.
Here are links to some of the things we discussed this week:
Forrest's pick: An all-time favorite song about gender roles: "Androgynous" by The Replacements.
Dana's pick: Marc Maron's interview with Mike White (writer, director, and co-star of Enlightened) for Maron's podcast, WTF With Marc Maron.
Outro: "Androgynous" by The Replacements
This podcast was produced by Julia Furlan. Our intern is Sally Tamarkin.