The Culture Gabfest: Hump the Host Edition
Slate's podcast about the 50th anniversary Broadway revival of Who's Afraid of Virginia Woolf?, the suicide of Internet activist Aaron Swartz, and the Oscar-nominated movie Lincoln.
Listen to Culture Gabfest No. 230 with Stephen Metcalf, Dana Stevens, and June Thomas by clicking the arrow on the audio player below:

The sponsors of today's show are Stamps.com and Audible.com. Go to Stamps.com and use the promo code "CULTUREFEST" for your no-risk free trial and bonus offer. Get a free audiobook from Audible's collection of more than 100,000 titles and a subscription to a daily audio digest when you sign up for a 30-day free trial at www.audiblepodcast.com/culturefest.
Culturefest is on the radio! "Gabfest Radio" combines Slate's Culture and Political Gabfests in one show—listen on Saturdays at 7 a.m. and Sundays at 6 p.m. on WNYC's AM820.
On this week's episode, Slate culture critic June Thomas joins the Culturefest to first discuss the current Broadway production of Who's Afraid of Virginia Woolf?, Edward Albee's 1962 play about two married couples and their evening of sodden gamesmanship. The Gabfesters then discuss the life and legacy of Aaron Swartz, the freedom-of-information activist who, facing prosecution for computer fraud, committed suicide at the age of 26. Finally, our critics continue their Oscar season coverage by discussing Lincoln, Steven Spielberg's historical drama about the final months of Abraham Lincoln's life and his efforts during this time to outlaw slavery through passage of the Thirteenth Amendment.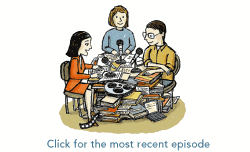 Here are some links to the things we discussed this week:
June's pick: From journalist-turned-fiction writer Alex Berenson, The Night Ranger (A John Wells Novel) about his hero John Wells, who in this latest installment must rescue kidnapped do-gooders in East Africa.
Stephen's pick: The song "Rotten Love" by Levy.
Outro: "Rotten Love" by Levy
You can email us at culturefest@slate.com.

This podcast was produced by Julia Furlan. Our intern is Sally Tamarkin.