The Culture Gabfest: Six Seconds of My Life Manage to Bore Even Me Edition
Slate's podcast about the Netflix original series House of Cards, the video-sharing app Vine, and the Oscar-nominated Silver Linings Playbook.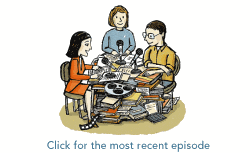 Listen to Culture Gabfest No. 229 with David Haglund, Dana Stevens, and Julia Turner by clicking the arrow on the audio player below:
Culturefest is on the radio! "Gabfest Radio" combines Slate's Culture and Political Gabfests in one show—listen on Saturdays at 7 a.m. and Sundays at 6 p.m. on WNYC's AM820.
On this week's episode, Slate Brow Beat editor David Haglund joins the Culturefest to first discuss House of Cards, Netflix's new original series, and how to watch and discuss a TV show that is released one entire season at a time. The Gabfesters then ponder Vine, the new video-sharing app from Twitter that makes every smartphone user into a six-second video auteur. Finally, as the Academy Awards approach, our critics discuss the Oscar-nominated Silver Linings Playbook, David O. Russell's romantic dramedy. They consider where it stands in the David O. Russell oeuvre, the movie's strong performances, and its portrayals of mental illness.
Here are some links to the things we discussed this week:
Julia's pick: Seasons 1 and 2 of Law & Order (the pre-Jerry Orbach years), which offer a fascinating portrait of the issues that preoccupied NYC in the 1990s.
Dana's pick: One of the best comedies of the last 20 years, David O. Russell's 1996 movie Flirting With Disaster, featuring an all-star cast including Ben Stiller, Patricia Arquette, Téa Leoni, Alan Alda, Lily Tomlin, Mary Tyler Moore, and George Segal.
Outro: "Freedom Highway" by the Staples Singers