The Culture Gabfest: First, We Kill All the Cats Edition
Slate's podcast about Macklemore's "Thrift Shop," the movie John Dies at the End, and the feline menace known as the house cat.
Listen to Culture Gabfest No. 228 with Stephen Metcalf, Jody Rosen, Dana Stevens, and Julia Turner by clicking the arrow on the audio player below:

Culturefest is on the radio! "Gabfest Radio" combines Slate's Culture and Political Gabfests in one show—listen on Saturdays at 7 a.m. and Sundays at 6 p.m. on WNYC's AM820.
On this week's Culturefest, Slate music critic Jody Rosen sits in to discuss the indie rap sensation Macklemore, the popularity of his hit single "Thrift Shop," and the mainstreaming of hipster culture. Then, the Gabfesters talk about the movie John Dies at the End, the popularity of low-budget, craft-conscious "artisanal horror" films and their favorite horror movies of all time. Finally, our critics discuss an economist's proposal to do away with the feline population of New Zealand, leading the Culturefest to confront the ultimate preference binary: dogs vs. cats.
Here are some links to the things we discussed this week: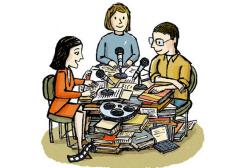 Dana's pick: The feature movie Girl Walk//All Day about dancer Anne Marsen's one-woman flash-mob style public dance performances.
Outro: "Thrift Shop" by Macklemore and Ryan Lewis featuring Wanz
This podcast was produced by Julia Furlan. Our intern is Sally Tamarkin.