The Culture Gabfest: Plodding Recitative Edition
Slate's podcast about Quentin Tarantino's Django Unchained, the movie musical Les Misérables, and the question and answer site Quora.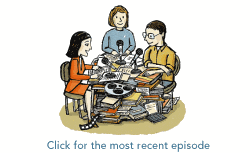 Listen to Culture Gabfest No. 224 with Aisha Harris, Stephen Metcalf, Dana Stevens, and Julia Turner by clicking the arrow on the audio player below:
The sponsors of today's show are Stamps.com and Audible.com. Go to Stamps.com and use the promo code "CULTUREFEST" for your no-risk free trial and bonus offer. Get a free audiobook from Audible's collection of more than 100,000 titles and a subscription to a daily audio digest when you sign up for a 30-day free trial at www.audiblepodcast.com/culturefest.
Culturefest is on the radio! "Gabfest Radio" combines Slate's Culture and Political Gabfests in one show—listen on Saturdays at 7 a.m. and Sundays at 6 p.m. on WNYC's AM820.
On this week's Culturefest, our critics are joined by Slate Brow Beat assistant Aisha Harris to discuss Quentin Tarantino's new blaxploitation western Django Unchained, whether the director successfully takes on the slavery revenge fantasy, and all the ways the movie both dazzles and disgusts. The Gabfesters then dive into Les Misérables, discussing the show's timeless appeal and whether Tom Hooper's new movie version, with its emotionally soaring show stoppers and uneven performances, adds up to a movie worth seeing. Finally, they discuss the website Quora, its unique contribution of voice to the online Q-and-A format and its experientially rich but informationally questionable content.
Here are some links to the things we discussed this week:
Dana's pick: The ballet-in-outer-space dancing of Lil Buck, who jooked live to Yo-Yo Ma's rendition of "The Swan."
Julia's pick: The strangely mesmerizing novel Billy Lynn's Long Halftime Walk, the story of an Iraq war veteran with the structure of a "one-crazy-night" movie.
Outro: "Unchained (The Payback/ Untouchable)" by James Brown and 2Pac
This podcast was produced by Dan Pashman. Our intern is Sally Tamarkin.