The Culture Gabfest: First Time, Long Time Edition
A special call-in edition of Slate's culture podcast.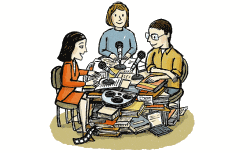 Listen to Culture Gabfest No. 223 with Stephen Metcalf, Dana Stevens, and Julia Turner by clicking the arrow on the audio player below:
The sponsors of today's show are Stamps.com and Audible.com. Go to Stamps.com and use the promo code "CULTUREFEST" for your no-risk free trial and bonus offer. Get a free audiobook from Audible's collection of more than 100,000 titles and a subscription to a daily audio digest when you sign up for a 30-day free trial at www.audiblepodcast.com/culturefest.
Culturefest is on the radio! "Gabfest Radio" Slate's Culture and Political Gabfests in one show—listen on Saturdays at 7 a.m. and Sundays at 6 p.m. on WNYC's AM820.combines
Come see a special screening of Sneakers, and a conversation with its director, Phil Alden Robinson, at the 92Y downtown in Tribeca, on Dec. 28 at 7 p.m. Slate editorial director and frequent Culturefest guest John Swansburg hosts. Buy tickets here.
On this week's Culturefest, our critics gab a little differently by answering listener questions on a wide range of topics, including the difference between actors and be-ers and how to evaluate movie performances, the hit video "Gangnam Style," and what resemblance, if any, Steve bears to Niles Crane. (Spoiler alert: not much.) They also discuss their own favorite coming of age movies, last reads on hypothetical death row, and sexiest moments on film.
Here are some links to the things we discussed this week:
Julia's pick: "The Innocent Man," Pamela Colloff's incredible and anguishing two-part article in Texas Monthly about a man who spent 25 years in prison after being falsely convicted of murdering his wife.
Stephen's pick: From the golden age of Jack Nicholson, a movie that never broke through as one of his iconic performances but is well worth watching, The Last Detail.
Outro: "Spanish Pipedream" performed by The Avett Brothers
This podcast was produced by Dan Pashman. Our intern is Sally Tamarkin.