The Culture Gabfest: Frankenfest Edition
Slate's podcast about Hurricane Sandy and social media, the music of Nashville, and intellectualism in the Mormon Church.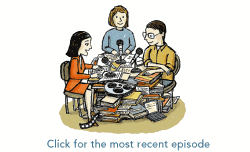 Listen to Culture Gabfest No. 215 with David Haglund, Stephen Metcalf, Jody Rosen, and Julia Turner by clicking the arrow on the audio player below:

The sponsors of today's show are Stamps.com and the Emmy-winning PBS series Independent Lens, the weekly series that showcases the best in documentary film every Monday night at 10 p.m. on PBS. Go to Stamps.com and use the promo code "CULTUREFEST" for your no-risk free trial and bonus offer.
Culturefest is on the radio! Gabfest Radio combines Slate's Culture and Political Gabfests in one show. Listen on Saturdays at 7 a.m. and Sundays at 6 p.m. on WNYC's AM820 or on New Jersey Public Radio.
On this week's Culturefest, our critics are joined by Slate music critic Jody Rosen to discuss Twitter as both hyperlocal newswire and social media rumor mill during Hurricane Sandy. The Gabfesters then consider the new ABC drama Nashville and whether its music offers a realistic and compelling portrait of the country music scene. Finally, Slate Brow Beat editor David Haglund joins the conversation to talk about the scholar D. Michael Quinn and the controversy over the study of history within the Mormon church.
Here are some links to the things we discussed this week:
Julia's pick: The movie Broadcast News, which offers a refreshing dramatization of a woman's commitment to her career.
David's pick: The Welsh singer-songwriter Katell Keineg. If you like Jeff Buckley and Joni Mitchell, start with her album Jet.
Stephen's pick: Donald Hall's essay on the history of poetry readings, including his own anecdotes from a lifetime of reading his poetry for audiences.
Outro: "Leonor" by Katell Keineg
This podcast was produced by Dan Pashman. Our intern is Sally Tamarkin.