The Culture Gabfest: Stow Your Blunderbuss Edition
Slate's podcast about the movie Looper, the 30th anniversary of the sitcom Cheers, and the indie rock band Grizzly Bear.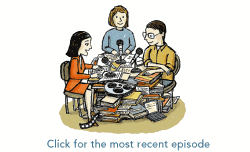 Listen to Culture Gabfest No. 211 with Nitsuh Abebe, Stephen Metcalf, Dana Stevens, and Julia Turner by clicking the arrow on the audio player below:

The sponsors of today's show are Stamps.com and the Emmy-winning PBS series Independent Lens. Go to Stamps.com and use the promo code "CULTUREFEST" for your no-risk free trial and bonus offer. To watch acclaimed documentaries from previous seasons of Independent Lens at 50% off, just go to iTunes and enter "Independent Lens" — that offer is running through October only.
Culturefest is on the radio! "Gabfest Radio" combines Slate's Culture and Political Gabfests in one show—listen on Saturdays at 7 a.m. and Sundays at 6 p.m. on WNYC's AM820.
On this week's Culturefest, our critics discuss the movie Looper and whether it succeeds in answering—or even asking—thought-provoking questions about the intricacies of time travel. Then, on the 30th anniversary of the premiere of the classic sitcom Cheers, the Gabfesters discuss the series, how it holds up in 2012, and what makes sitcoms timeless or useless after all this time. Finally they are joined by New York pop critic Nitsuh Abebe to discuss his profile of the band Grizzly Bear and what it means to find success in the world of indie rock.
Here are some links to the things we discussed this week:
Dana Stevens on Looper for Slate.
"The Most Awkward Action-Star Transformations" by Katie Kilkenny for Slate.
Gordon-Levitt's earlier work, including the 2004 movie Mysterious Skin and the TV series 3rd Rock From the Sun.
Looper director Rian Johnson's earlier movie starring Joseph Gordon-Levitt, Brick.
The 1962 French sci-fi short by Chris Marker, La Jetée, which was the inspiration for Terry Gilliam's 1996 apocalyptic drama 12 Monkeys.
"Four Quartets" by T.S. Eliot.
The movies The Terminator and My Dinner With Andre.
The classic post-apocalyptic movie Blade Runner.
The New York Times Magazine feature on Looper director Rian Johnson.
The 1985 Harrison Ford movie Witness.
GQ's oral history of the sitcom Cheers.
The script for "Give Me a Ring Sometime," the Cheers pilot episode.
Various sitcoms including Bewitched (1964), I Dream of Jeannie (1965), The Mary Tyler Moore Show (1970), The Bob Newhart Show (1982), Seinfeld (1989), and 30 Rock (2006).
Gabfester favorite sitcoms and TV series The Simpsons, The Larry Sanders Show, Frasier, Sports Night, and Freaks and Geeks.
The real life inspiration for Cheers' Sam Malone, former Major League Baseball pitcher, Bill "Spaceman" Lee.
Explanations of Cheers' influence on Parks and Rec from its showrunner Michael Schur in New York and its star Amy Poehler in GQ.
"Down and Out in the Top Ten," Nitsuh Abebe's profile of the band Grizzly Bear and account of their indie rock stardom for New York.
Liz Phair's 1999 album Exile in Guyville and her subsequent ill-fated attempt to re-cast herself as an Avril Lavigne-esque pop star.
Indie rock darlings Bon Iver.
Legendary producer Steve Albini on "The Problem With Music" for Maximumrocknroll,
Forrest Wickman for Slate on why indie rock bands don't get rich anymore.
PBS Independent Lens feature No Subtitles Necessary, the documentary about the Hungarian cinematographers and friends Laszlo Kovacs and Vilmos Zsigmond who between them shot a slew of classic 1970's cinema including The Deer Hunter, McCabe and Mrs. Miller, Five Easy Pieces, Heaven's Gate, and Easy Rider.
Deyrolle, Wes Anderson's favorite shop of taxidermy and curiosities of the natural world, located in Paris.
Dana's pick: The Evolution Store, the SoHo boutique for all things insects, bugs, natural history, fossils and minerals.
Julia's pick: The novel that's probably already been pressed evangelically into your hands, Cloud Atlas by David Mitchell.
Outro: Bon Iver's "Bruised Orange (Chain of Sorrow)."
This podcast was produced by Dan Pashman. Our intern is Sally Tamarkin.