The Culture Gabfest: Long Shoots of Goldenrod Edition
Slate's podcast about the documentary Queen of Versailles, the NBC drama Revolution, and the flap over unsophisticated audiences.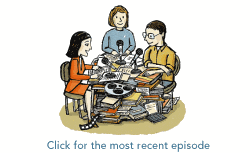 Listen to Culture Gabfest No. 210 with Stephen Metcalf, Dana Stevens, and Julia Turner by clicking the arrow on the audio player below:

The sponsors of today's show are Stamps.com and Audible.com. Go to Stamps.com and use the promo code "CULTUREFEST" for your no-risk free trial and bonus offer. Get a free audiobook from Audible's collection of more than 100,000 titles and a subscription to a daily audio digest when you sign up for a 30-day free trial at www.audiblepodcast.com/culturefest.
Culturefest is on the radio! "Gabfest Radio" combines Slate's Culture and Political Gabfests in one show—listen on Saturdays at 7 a.m. and Sundays at 6 p.m. on WNYC's AM 820.
On this week's Culturefest, our critics discuss the documentary Queen of Versailles, director Lauren Greenfield's portrait of opulent excess and financial collapse, and what happens to a family's dream of constructing the largest private home in the country when the economy tanks. They then discuss Revolution, the new sci-fi drama from J.J. Abrams and Eric Kripke and ponder why Americans can't seem to get enough of the post-apocalypse in our entertainment. Finally, the Gabfesters consider TV critic Matt Zoller Seitz's blog post about distanced or "unsophisticated" viewership, whether there exists a "wrong" way to watch a movie, and how to properly experience and appreciate art of an earlier age.
Here are some links to the things we discussed this week:
Stephen's pick: The newly coined term farmeur to describe the yuppie who is convinced of his agrarian bona fides, and Émile Zola's 1885 masterpiece Germinal.
Outro: "The Palace of Versailles" by Al Stewart
You can email us at culturefest@slate.com.

This podcast was produced by Dan Pashman. Our intern is Sally Tamarkin.