The Culture Gabfest: Batman and Robins Edition
Slate's podcast about The Dark Knight Rises, Christian Marclay's 24-hour film The Clock, and the HBO documentary Birders: The Central Park Effect.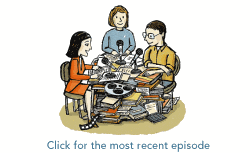 Listen to Culture Gabfest No. 201 with Laura Helmuth, Stephen Metcalf, Dana Stevens, and Julia Turner by clicking the arrow on the audio player below:


The sponsor of today's show is Audible.com. Get a free audiobook from Audible's collection of more than 100,000 titles and a subscription to a daily audio digest when you sign up for a 30-day free trial at www.audiblepodcast.com/culturefest.
On this week's Culture Gabfest, our critics consider Christopher Nolan's final Batman installment, The Dark Knight Rises, whether it makes for a worthy conclusion to the trilogy, and how to think about the movie in the wake of the Aurora tragedy. The Gabfesters then explore Christian Marclay's addictive and inspired cinematic mashup, the 24-hour movie The Clock. Finally, the critics are joined by Slate Science and Health Editor Laura Helmuth to discuss the HBO documentary Birders: The Central Park Effect, and the quirky world of score-keeping, list-making birders.

Here are some links to the things we discussed this week:
Dana's piece for Slate on the parallels between the world of the The Dark Knight Rises and our own.
Slate's review of and Spoiler Special for The Dark Knight Rises by Dana.
A few of Christopher Nolan's other movies, including Inception, Batman Begins, and The Dark Knight.
David Remnick for The New Yorker on Bruce Springsteen at 62.
The superhero blockbuster The Avengers.
Christian Marclay's The Clock at Lincoln Center, where it's been exhibited, and where it's going next.
Studio 360's 2011 field segment on the bizarrely compelling experience of viewing The Clock.
The New Yorker's profile of Christian Marclay and The Clock by Daniel Zalewski.
Next, the 2007 movie in which Nicolas Cage and Jessica Biel play lovers.
Laura Helmuth for Slate on why Jonathan Franzen is an annoying birder.
"My Bird Problem," Jonathan Franzen's 2005 meditation on his history with bird-watching.
Jonathan Franzen's 2011 New York Times op-ed about his relationship to wild birds, nature, and techno-consumerism.
Laura's nemesis bird, the Mangrove Cuckoo, and her proudest get, the Harlequin Duck.
The Red-tailed Hawk, Stephen's favorite bird.
Julia's pick: In keeping with the theme of observing one's surroundings: Kate Ascher's The Works: Anatomy of a City, a coffee table book about the systems that make New York City run.
Outro: Olivier Messiaen's "Le Rouge Gorge (European Robin)"
You can email us at culturefest@slate.com.

This podcast was produced by Dan Pashman. Our intern is Sally Tamarkin.