The Culture Gabfest: Utter Tosh Edition
Listen to Slate's show about the USA miniseries Political Animals, the Daniel Tosh rape-joke controversy, and Dana's lifelong indifference to games.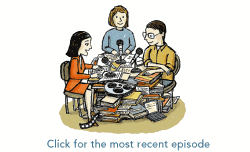 Listen to Culture Gabfest No. 200 with Stephen Metcalf, Dana Stevens, and Julia Turner by clicking the arrow on the audio player below:
The sponsors of today's show are Audible.com and Grisly Meter, Amazon's collection of gruesome summer reads. Get a free audiobook from Audible's collection of more than 100,000 titles and a subscription to a daily audio digest when you sign up for a 30-day free trial at www.audiblepodcast.com/culturefest. For a selection of frightful summer reads, visit Grisly Meter.
Join Slate's Culture Editor John Swansburg this Thursday, July 19 at the 92nd Street Y downtown in Tribeca, as he hosts a screening of The Karate Kid followed by a live Q&A with its star Ralph Macchio. Get tickets here.
On this week's Culture Gabfest, our critics discuss the USA Network's miniseries Political Animals and whether it succeeds as a roman à clef about the Clintons. The Gabfesters then discuss Daniel Tosh's tangle with a heckler over a joke about rape, whether rape jokes can ever be funny, and that inscrutable element that makes a joke work. Finally, they discuss Dana's lifelong indifference to competitive games and why we bother playing them at all.
Here are some links to the things we discussed this week:
Julia's pick: Banana pudding, the ultimate summer dessert concoction of bananas, pudding, Nilla wafers, and whipped cream
Outro: Dusty Springfield's "Just One Smile"
You can email us at culturefest@slate.com.

This podcast was produced by Dan Pashman. Our intern is Sally Tamarkin.