The Culture Gabfest, "Money in the Envelope" Edition
Listen to Slate's show about the new season of Mad Men, the jungles of New Orleans, and the cashless society.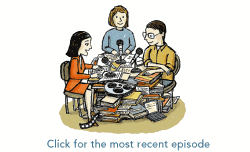 Listen to Culture Gabfest No. 184 with Stephen Metcalf, Nathaniel Rich, Seth Stevenson, John Swansburg, and Julia Turner by clicking the arrow on the audio player below:
In this week's Culture Gabfest, our critics revisit AMC's much-acclaimed dramatic series Mad Men, now entering its fifth season. Next, they're joined by Nathaniel Rich to discuss his New York Times Magazine article on the atrophied recovery of New Orleans' 9th Ward, still decimated by Hurricane Katrina. Finally, Slate's Seth Stevenson goes cashless for months and lives to tell the tale.
Here are some links to the things we discussed this week:
The Culture Gabfest weekly endorsements:
Outro: Tracey Thorn's "Femme Fatale"
TODAY IN SLATE
Politics
Blacks Don't Have a Corporal Punishment Problem
Americans do. But when blacks exhibit the same behaviors as others, it becomes part of a greater black pathology.
Lifetime Didn't Think the Steubenville Rape Case Was Dramatic Enough
So they added a little self-immolation.