The Culture Gabfest, "Writhing Around in Dirt" Edition
Listen to Slate's show about Tintin, the history of the word processor, and the 3-D dance documentary Pina.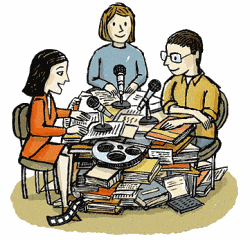 Listen to Culture Gabfest No. 171 with Daniel Engber, Dana Stevens, and Julia Turner by clicking the arrow on the audio player below or opening this player in another tab:
In this week's Culture Gabfest, our critics Daniel Engber, Dana Stevens, and Julia Turner examine whether Steven Spielberg's new animated Tintin movie lives up to its comic book roots. Next, they look at how the word processor changed the writing process. For their final segment, Gabfesters revel in the glories of Pina, the new 3-D dance documentary about the life and work of the late choreographer Pina Bausch.
Advertisement

Here are some links to the things we discussed this week:
Outro: "Lilies of the Valley" by Jun Miyake from the Pina Soundtrack
TODAY IN SLATE
Politics
The Irritating Confidante
John Dickerson on Ben Bradlee's fascinating relationship with John F. Kennedy.