The Culture Gabfest, "May Your Descendants Be Stuffed With Naked Mole Rats" Edition
Listen to Slate's show about The Descendants, laboratory mice, and the ultimate Thanksgiving stuffing.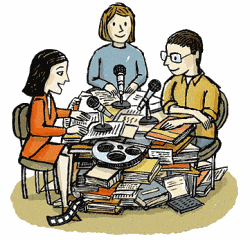 The Culture Gabfest is doing a live show in New York on Tuesday, Dec. 6 at City Winery. Doors open at 6 p.m., show starts at 8 p.m. Listeners can purchase tickets here. Tickets are $10 in advance, $15 the day of the show.
Listen to Culture Gabfest No. 166 with Stephen Metcalf, Dana Stevens, and Julia Turner by clicking the arrow on the audio player below or opening this player in another tab:

In this week's Culture Gabfest, our critics Stephen Metcalf, Dana Stevens, and Julia Turner debate the merits of Alexander Payne's new movie The Descendants. Next, Daniel Engber joins the podcast to discuss his recent Slate series on our overreliance on laboratory mice. For their final segment, the Gabfesters welcome Slate's Laura Anderson to digest the subtleties of Thanksgiving stuffing.
Here are some links to the things we discussed this week:
The Culture Gabfest weekly endorsements:
Outro: The Smith's "Girlfriend in a Coma."
This podcast was produced by Jesse Baker. Our intern is Matt Sigl.