The Culture Gabfest, "Bronze Ball of Regret" Edition
Listen to Slate's show about the new romantic comedy Weekend, Dancing With the Stars, and the legacy of Steve Jobs.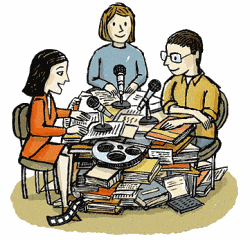 Listen to Culture Gabfest No. 160 with Stephen Metcalf, Dana Stevens, and Julia Turner by clicking the arrow on the audio player below or opening this player in another tab:
In this week's Culture Gabfest, our critics Stephen Metcalf, Dana Stevens, and Julia Turner are smitten with the new indie romance Weekend. Next, they watch the perennial television favorite Dancing With the Stars and try to sort out why it's so popular. For their final segment, they consider the legacy of Apple founder Steve Jobs.

Here are some links to the things we discussed this week:
The Culture Gabfest weekly endorsements:

Dana's pick: Meghan O'Rourke on Steve Jobs. Also, the Filmspotting podcast.
Julia's pick: Baz Luhrmann's Strictly Ballroom. The Ira Glass sex tape. And a retraction: Do not watch Two Broke Girls!
Steve's pick: Final Cut by Stephen Bach

Outro: "Dancing With Myself," a cover by Nouvelle Vague.

You can email us at culturefest@slate.com.

This podcast was produced by Jesse Baker. Our intern is Matt Sigl.

Follow us on the new Culturefest Twitter feed. And please Like the Culture Gabfest on Facebook.