The Culture Gabfest, "The Three-Quarter Hour" Edition
Listen to Slate's show about the new BBC America program The Hour, the release of the West Memphis Three, and the deaths of songwriters Jerry Leiber and Nick Ashford.
Posted Wednesday, Aug. 24, 2011, at 11:44 AM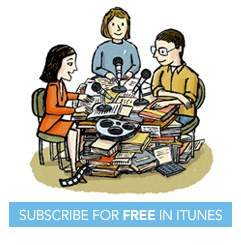 Listen to Culture Gabfest No. 153 with Stephen Metcalf, Dennis Riordan, Jody Rosen, Dana Stevens, and Julia Turner by clicking the arrow on the audio player below or opening this player in another tab:


This podcast is brought to you by Bing. Wondering which summer movie to see? Which summer festival to go to? Which new album to buy? Bing will help you decide. Just click the "entertainment" button on the Bing home page to get the latest on music, movies, TV, and video games. Plus, with Bing's social search feature, your Facebook friends' "likes" will show up right there on your Bing search results. The Culture Gabfest thanks Bing for its support.
In this week's Culture Gabfest, our critics Stephen Metcalf, Dana Stevens, and Julia Turner watch the new BBC America series The Hour, a Mad Men for the Anglophile set. Next, they're joined by attorney Dennis Riordan for a legal briefing on the West Memphis Three. (Riordan represented newly released defendant Damien Echols.) For their final segment, Gabfesters welcome Slate music critic Jody Rosen to discuss the legacy of songwriters Jerry Leiber and Nick Ashford, both of whom died this past week.

Here are some links to the things we discussed this week:
You can e-mail us at culturefest@slate.com.
This podcast was produced by Jesse Baker. Our intern is Matt Sigl.
Correction, Aug. 24, 2011: This article originally misspelled Bayeux Tapestry. (Return to the corrected sentence.)
MYSLATE
Stephen Metcalf is Slate's critic at large. He is working on a book about the 1980s.
Dennis Riordan is an attorney.
Jody Rosen is Slate's music critic. He can be reached at slatemusic@gmail.com.
Dana Stevens is Slate's movie critic. Email her at slatemovies@gmail.com or follow her on Twitter.
Julia Turner is Slate's deputy editor and a regular on Slate's Culture Gabfest podcast.
You can email her at juliaslateturner at gmail.com or follow her on Twitter at http://twitter.com/juliaturner.
Illustration by Robert Neubecker.