The Culture Gabfest, "Real Men Cheat on Their Wives" Edition
Listen to Slate's show on Dan Savage and monogamy, Ashton Kutcher vs. the Village Voice, and 4chan's influential message board /b/.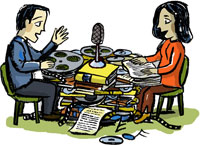 Listen to Culture Gabfest No. 146 with Michael Agger, Stephen Metcalf, Dana Stevens, and Julia Turner by clicking the arrow on the audio player below or  opening this player in another tab:


Don't miss a single episode of the Culture Gabfest. Subscribe to the  free Culturefest podcast in iTunes or directly with  our RSS feed. You can also download this week's episode  here. And join the lively conversation on the Culturefest Facebook here:
This podcast is brought to you by Bing. Wondering which summer movie to see? Which summer festival to go to? Which new album to buy? Bing will help you decide. Just click the "entertainment" button on the Bing home page to get the latest on music, movies, TV and video games. Plus, with Bing's social search feature, your Facebook friends' "likes" will show up right there on your Bing search results. The Culture Gabfest thanks Bing for its support.
In this week's Culture Gabfest, our critics Stephen Metcalf, Dana Stevens, and Julia Turner discuss Mark Oppenheimer's profile of Stranger columnist Dan Savage in the New York Times Magazine, and the Twitter fight between the Village Voice and Ashton Kutcher. For their third segment, our critics are joined by Slate editor Michael Agger to discuss his piece on 4chan's highly influential and somewhat revolting message board /b/ .
Here are some links to the things we discussed this week:
Mark Oppenheimer's New York Times Magazine profile of Dan Savage, in which the advice columnist questions whether monogamy is right for every marriage.
Dan Savage's podcast and column "Savage Love" in the Stranger.
The It Gets Better project website.
Daily Mail's coverage of the Ashton/Village Voice feud.
Reuters Blogger Felix Salmon crunches the underage prostitution numbers.
Ashton Kutcher's Twitter feed.
Slate's Michael Agger on 4chanomics.
A collage of Hipster Ariel images.
The Wiki for 4chan.

The Culture Gabfest weekly endorsements:
Outro: "The James Bond Theme (From Dr. No)" by John Barry.
This podcast was produced by Jesse Baker. Our outgoing intern is Forrest Wickman. If you'd like to be our new intern, please email us at culturefest@slate.com.