The Culture Gabfest, "Grody, Moldy Breath of Tourists" Edition
Listen to Slate's show about Werner Herzog's Cave of Forgotten Dreams, Wesley Yang's New York cover story "Paper Tigers," and the enduring popularity of the Beastie Boys.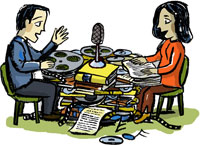 Listen to Culture Gabfest No. 138 with Stephen Metcalf, Nina Shen Rastogi, Jody Rosen, Dana Stevens, and Julia Turner by clicking the arrow on the audio player below:
You can also download the program  here, or you can subscribe to the weekly Culture Gabfest podcast feed  via iTunes or directly with our   RSS feed. Find the Culturefest Facebook page   here. Leave us a note and see what other listeners have to say about the latest podcast.

This podcast is brought to you by FreshBooks, the easy online invoicing service that gets you paid quickly, and makes you look professional. Get started with a free package at FreshBooks.com. That's FreshBooks.com for easy online invoicing, and tell them Slate sent you.
In this week's Culture Gabfest, our critics Stephen Metcalf, Dana Stevens, and Julia Turner discuss the latest documentary from Werner Herzog, Cave of Forgotten Dreams, about the earliest cave paintings ever discovered. For their second segment, they're joined by Slate's culture bloggerNina Shen Rastogi to discuss Wesley Yang's New Yorkarticle on Asian-Americans, "Paper Tigers." For their final segment, they're joined by Slate's music critic Jody Rosen to discuss the Beastie Boys and their new album Hot Sauce Committee Part Two.
Here are some links to the things we discussed this week:
The Culture Gabfest weekly endorsements:
Outro: "Somebody's Darling" by John Hill Hewitt as performed by Tom Glazer.
This podcast was produced by Jesse Baker. Our intern is Forrest Wickman.