The Culture Gabfest, "Debonair Counterspy" Edition
Listen to Slate's show about AMC's new Nordic noir The Killing, Spike's reality series Coal, and David Grann's New Yorker report on the murder of Rodrigo Rosenberg.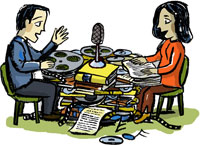 Listen to Culture Gabfest No. 133 with David Grann, Stephen Metcalf, Dana Stevens and Julia Turner by clicking the arrow on the audio player below:
You can also download the program  here, or you can subscribe to the weekly Culture Gabfest podcast feed  via iTunes or directly with our   RSS feed. Find the Culturefest Facebook page   here. Leave us a note and see what other listeners have to say about the latest podcast.

The Slate Culture Gabfest is brought to you by Starbucks. With more than 87,000 drink combinations, Starbucks makes your signature espresso just the way you want it. Create yours at  www.mystarbuckssignature.com.
In this week's Culture Gabfest, our critics Stephen Metcalf, Dana Stevens, and Julia Turner discuss AMC's new murder mystery The Killing—based on the Danish series Forbrydelsen—and Spike's reality series Coal, the latest from the producer of Deadliest Catch, Ice Road Truckers, and Ax Men. For their final segment, they're joined by The New Yorker's David Grann to discuss his report on the murder of Rodrigo Rosenberg.

Here are some links to the things discussed this week:

The official website of AMC's new Nordic noir series The Killing.
Troy Patterson's review of the The Killing for Slate.
The New York Times' interview with Killing executive producer Veena Sud.
The Wiki for the original Danish version of The Killing.
British police procedural Prime Suspect.
The official website of Spike's Coal, where you can stream the first episode.
Virginia Heffernan's Opinionator column on Coalin the New York Times.
Men's Journal's interview with Coal producer Thom Beers.
Previous Thom Beers productions Deadliest Catch, Ice Road Truckers, and Ax Men.
David Grann's report on Rodrigo Rosenberg, "A Murder Foretold," in The New Yorker.
Brow Beat's brief primer on Grann's article.
Rodrigo Rosenberg's video statement about his death.
The U.N. and Guatemala's investigative body, the CICIG.
The official website for Goalies' World magazine.

The Culture Gabfest weekly endorsements:

Dana's pick: The movie soundtrack website and magazine Film Score Monthly.
Julia's pick: The book Helvetica and the New York City Subway System by Paul Shaw.
David's pick: John Darnton's new memoir Almost a Family.
Steve's pick: George Orwell's account of coal miners' working conditions in The Road to Wigan Pier and his 1949 "Reflections on Gandhi."

Outro: "Sixteen Tons," as performed by Tennessee Ernie Ford.

You can e-mail us at culturefest@slate.com.

This podcast was produced by Jesse Baker. Our intern is Forrest Wickman.