The Culture Gabfest, "Adonis DNA" Edition
Listen to Slate's show about Charlie Sheen's career meltdown, the Academy Awards, and the Justin Bieber documentary Never Say Never.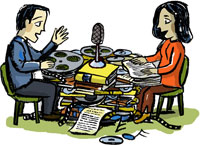 Listen to Culture Gabfest No. 128 with Stephen Metcalf, Dana Stevens, and Julia Turner by clicking the arrow on the audio player below:


This episode is brought to you by Squarespace, the fast and easy way to create and manage a high-quality Web site or blog. Create a Web site that's uniquely you, all in the design and colors of your choice.For a free trial, click here, or go to Squarespace.com/slate.
The Culture Gabfest is coming to Austin, Texas! The Culture Gabfest will record live from SXSW on Thursday, March 17, at noon CST. A SXSW badge will be required to attend the show, but fans of the Gabfest who are not attending SXSW can also watch the show live via online simulcast. A separate gathering for Gabfesters and fans will also be announced soon. Please check back in the coming weeks for more details, and find us on the SXSW schedule here.
Here are some links to the things we discussed this week:
The Culture Gabfest weekly endorsements:
Dana's pick: Mark Harris' recent GQ essay on Hollywood's crisis of originality, " The Day the Movies Died."
Julia's pick: Singer-songwriter Adele's new album 21.
Steve's pick: Guptill's roller skating arena in Latham, N.Y.
Outro: "Somebody To Love" by Justin Bieber.
This podcast was produced by Jesse Baker. Our intern is Forrest Wickman.