The Culture Gabfest, "My Eyeballs Feel Like Boiled Eggs" Edition
Listen to Slate's show about Paul Haggis' split from Scientology in The New Yorker, FX's series Justified, and the future of marginalia.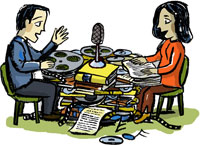 Listen to Culture Gabfest No. 127 with Stephen Metcalf, Dana Stevens, and Julia Turner by clicking the arrow on the audio player below:
You can also download the program here, or you can subscribe to the weekly Culture Gabfest podcast feed via iTunes or directly with our RSS feed. Find the Culturefest Facebook page here. Leave us a note and see what other listeners have to say about the latest podcast.
The Culture Gabfest is coming to Austin, Texas! The Culture Gabfest will record live from SXSW on Thursday, March 17, at noon CST. A SXSW badge will be required to attend the show, but fans of the Gabfest who are not attending SXSW can also watch the show live via online simulcast. A separate gathering for Gabfesters and fans will also be announced soon. Please check back in the coming weeks for more details, and find us on the SXSW schedule here.

In this week's Culture Gabfest, our critics Stephen Metcalf, Dana Stevens, and Julia Turner discuss Lawrence Wright's article about Paul Haggis and his split with Scientology in The New Yorker, FX's Elmore Leonard-inspired crime series Justified, and the future of marginalia in the age of the e-book.

Here are some links to the things we discussed this week:

Lawrence Wright's massive New Yorker article " Paul Haggis vs. Scientology."
Previous special reports on Scientology from Rolling Stone and the St. Petersburg Times.
Tom Cruise's dispute with Brooke Shields over antidepressants.
South Park's Scientology episode " Trapped in the Closet."
Mark Oppenheimer on why Scientology is "not a cult" in Slate.
Scientology masterwork Battlefield: Earth.
The Scientific Revolution.
The official Web site for FX series Justified.
American novelist Elmore Leonard.
Troy Patterson's review of Justified in Slate.
Justified star Timothy Olyphant.
Film adaptations of Elmore Leonard's Get Shorty and Out of Sight.
FX's recently canceled crime series Terriers, which the Gabfest previously discussed.
The New York Times' article on the feared " Dim Future for Notes in the Margins."
Billy Collins' poem " Marginalia."
Portuguese poet Fernando Pessoa.
The great economic debate of John Maynard Keynes vs. Freidrich Hayek.

The Culture Gabfest weekly endorsements:

Dana's pick: Christian Marclay's 24-hour cinematic timepiece The Clock.
Julia's pick: Miguel Arteta's 2011 comedy Cedar Rapids, starring Ed Helms and John C. Reilly.
Steve's pick: Grant Green's 1964 jazz album Idle Moments.

Outro: "Jean de Fleur" by Grant Green.

You can e-mail us at culturefest@slate.com.

This podcast was produced by Jesse Baker. Our intern is Forrest Wickman.