The Culture Gabfest, "Church of High Modernism and Puppies" Edition
Listen to Slate's show about MoMA's "Abstract Expressionist New York," John Adams' Nixon in China at the Met, and the Westminster Dog Show.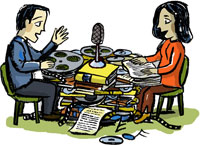 Listen to Culture Gabfest No. 126 with Justin Davidson, Fred Kaplan, Stephen Metcalf, Dana Stevens, John Swansburg, and Julia Turner by clicking the arrow on the audio player below:
You can also download the program  here, or you can subscribe to the weekly Culture Gabfest podcast feed  via iTunes or directly with our   RSS feed. Find the Culturefest Facebook page here. Leave us a note and see what other listeners have to say about the latest podcast.
Also, the Culture Gabfest is coming to Austin, Texas! The Culture Gabfest will record live from SXSW on Thursday, March 17, at noon CST. A SXSW badge will be required to attend the show, but fans of the Gabfest who are not attending SXSW can also watch the show live via simulcast online. A separate Austin gathering for Gabfesters and fans will also be announced soon. Please check back in the coming weeks for more details, and find us on the SXSW schedule here.
In this week's Culture Gabfest, our critics Stephen Metcalf, Dana Stevens, and Julia Turner are joined by Slatecolumnist Fred Kaplan to discuss the exhibition "Abstract Expressionist New York"at the Museum of Modern Art.They're then joined by New Yorkmagazine's music and architecture critic Justin Davidson to discuss John Adams' Nixon in China at the Metropolitan Opera. Finally, they're joined by Slate'sculture editor John Swansburg to discuss the Westminster Dog Show.
Here are some links to the things we discussed this week:
The Culture Gabfest weekly endorsements:
Outro: "Fido, Your Leash Is Too Long" by The Magnetic Fields.
This podcast was produced by Jesse Baker. Our intern is Forrest Wickman.