The Culture Gabfest, "All Hail Hailee" Edition
Listen to Slate's podcast about the 2011 Oscar nominations, IFC's new sketch comedy show Portlandia, and Brock Enright's pay-per-thrill "reality adventures."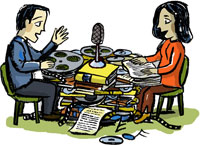 Listen to Culture Gabfest No. 123 with Jessica Grose, Nina Shen Rastogi, Dana Stevens, Julia Turner, and Jonah Weiner by clicking the arrow on the audio player below:
You can also download the program  here, or you can subscribe to the weekly Culture Gabfest podcast feed  via iTunes or directly with our   RSS feed. Find the Culturefest Facebook page   here. Leave us a note and see what other listeners have to say about the latest podcast.

We'd like you to participate in an exciting reader contest. Inspired by Stanley Fish's list of his favorite sentences in the English language, we want to hear your favorites. You can post your nominees—along with your analysis of why the sentence works so well—in the comments thread here, and Stanley Fish will pick the best answer of the bunch. Entries are due by midnight ET Thursday, Jan. 27.

In this week's Culture Gabfest, our critics Dana Stevens and Julia Turner discuss the just-announced 2011 Oscar nominations with Slate "Brow Beat" writer Nina Shen Rastogi, IFC's new sketch comedy Portlandia with Slateassociate editor Jessica Grose, and Brock Enright's pay-per-thrill "reality adventures" with Slate pop critic Jonah Weiner.

Here are some links to the things we discussed this week:

The complete list of this year's Oscar nominees.
Slate's 2011 Lean/Lock Oscars prognostication game.
Slate reactions to the nominations from Nina, Dana, and Troy Patterson.
Best foreign language film nominee  Dogtooth.
Julia's slide show on the Academy Awards and costume design.
Alexandre Desplat's scores for The Ghost Writer and The King's Speech.
Hailee Steinfeld's performance in True Grit.
The official Web site for IFC's new sketch comedy Portlandia.
You can watch the first episode on iTunes or Amazon.
The 1990s HBO sketch comedy series Mr. Show.
Portlandia co-creator Carrie Brownstein's former indie rock band  Sleater-Kinney.
Carrie Brownstein's NPR Music blog Monitor Mix.
Carrie Brownstein and Fred Armisen's Web site ThunderAnt.
Jonah Weiner's NYT Magazine article on Brock Enright's Videogame Adventures Services.
Photos and descriptions of some of Enright's past "executive kidnappings."
Videogames Adventures Services' (minimal) official Web site.

The Culture Gabfest weekly endorsements:

Dana's pick: The song "Furry Walls" from Get Him to the Greek.
Jonah's pick: The short story "The Tremendous Adventures of Major Brown" from G.K. Chesterton's The Club of Queer Trades.
Julia's pick: Suzanne Collins' young-adult science-fiction trilogy, The Hunger Games.

Outro: "Portlandia Theme Song" by Carrie Brownstein

You can e-mail us at culturefest@slate.com.

This podcast was produced by Jesse Baker. Our intern is Forrest Wickman.