The Culture Gabfest, "WE'RE NOT SHOUTING AT YOU" Edition
Listen to Slate's show about True Grit, the case against caps lock, and the death of Captain Beefheart.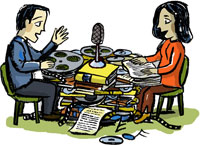 Listen to Culture Gabfest No. 118 with Christopher Beam, Stephen Metcalf, Jody Rosen, Dana Stevens, and Julia Turner by clicking the arrow on the audio player below:
Outro: "My Head Is My Only House Unless It Rains" performed by Everything But the Girl.

You can e-mail us at culturefest@slate.com.

This podcast was produced by Jesse Baker. Our intern is Forrest Wickman.
TODAY IN SLATE
The Extraordinary Amicus Brief That Attempts to Explain the Wu-Tang Clan to the Supreme Court Justices
The Human Need to Find Connections in Everything
It's the source of creativity and delusions. It can harm us more than it helps us.