The Culture Gabfest, "Junk-Touching" Edition
Listen to Slate's show about the TSA's new scanning procedures, the sitcom Mike & Molly,and HBO's new documentary about Fran Lebowitz.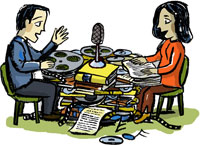 Listen to Culture Gabfest No. 114 with Dan Engber, Troy Patterson, John Swansburg, Dana Stevens, and Julia Turner by clicking the arrow on the audio player below:

You can also download the program here, or you can subscribe to the weekly Culture Gabfest podcast feed  via iTunes or directly with our   RSS feed. Find the Culturefest Facebook page   here. Leave us a note and see what other listeners have to say about the latest podcast.


This episode is brought to you by Carbonite, the leader in online backup. Carbonite backs up your files automatically, whenever you connect to the Internet. Try Carbonite for free. Go to  Carbonite.com, and enter offer code SLATE. If you decide to buy the service (after the trial), you'll get two months free with offer code SLATE.
Get tickets to our live show in Seattle at www.slate.com/seattle

In this week's Culture Gabfest, our critics Dana Stevens and Julia Turner are joined by John Swansburg to discuss the outcry over TSA's new scanning procedures, by Daniel Engber to assess the CBS sitcom Mike & Molly, and by Troy Patterson to evaluate Public Speaking, HBO's new documentary about Fran Lebowitz.

Here are some links to the things we discussed this week:

William Saletan defends the TSA's new guidelines (and critiques its poor communication strategy) in Slate.
John Tyner's "Don't touch my junk" video.
Read more about the 35,000 full-body images saved at a Florida Federal courthouse here.
George Clooney's Ryan Bingham character in the movie Up in the Air.
Daniel Engber's slide-show history of television fat-coms in Slate.
Watch an entire episode of the CBS sitcom Mike & Molly here.
Maura Kelly's blog post "Should 'Fatties' Get a Room?" for Marie Claire.
TheHollywood Reporter's profile of Chuck Lorre. (Subscription required.)
The official site for Martin Scorcese's HBO documentary Public Speaking.
Troy Patterson's review of Public Speaking in Slate.
Fran Lebowitz's two published books Metropolitan Life and Social Studies, now collected in The Fran Lebowitz Reader.
Read an excerpt from Fran Lebowitz's Progress in Vanity Fair.
The West Village restaurant The Waverly Inn, where Lebowitz was interviewed for the documentary.

The Culture Gabfest weekly endorsements:

Dana's pick: Patti Smith's tearful acceptance speech at The National Book Awards.
(Speech begins at 1:52:15.)
Troy's pick: The campus novel Pictures from an Institution by Randall Jarrell.
Steve's pick: Banjo Mountain Cafe in Ghent, New York and the Christmas comedy Elf.
Julia's pick: Saturday Night Live's Bill Hader, his performance in last Saturday's TSA skit, and his strangely satisfying impression of the actor Alan Alda.