The Culture Gabfest, "Barely Legal" Edition
Listen to Slate's show on Law & Order Los Angeles and the rest of the week in culture.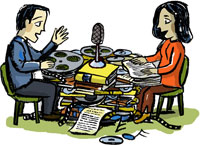 Listen to Culture Gabfest  No. 107 with Stephen Metcalf, Dana Stevens, John Swansburg, and Julia Turner by clicking the arrow on the audio player below:
This episode is brought to you by Carbonite, the leader in online backup. Carbonite backs up your files automatically, whenever you connect to the Internet. Try Carbonite for free. Go to  Carbonite.com, and enter offer code SLATE. If you decide to buy the service (after the trial), you'll get two months free with offer code SLATE. 
In this week's Culture Gabfest, our critics Stephen Metcalf, Dana Stevens, and Julia Turner discuss Malcolm Gladwell's essay on activism and social media in The New Yorker and Law & Order Los Angeles' debut episode. They're also joined by John Swansburg to discuss his Civil War tourism series.
Outro: They Might Be Giants' "Birdhouse in Your Soul."
Podcast production by Jesse Baker.